Understanding consumer shifts from animal-based to plant-based foods in the retail environment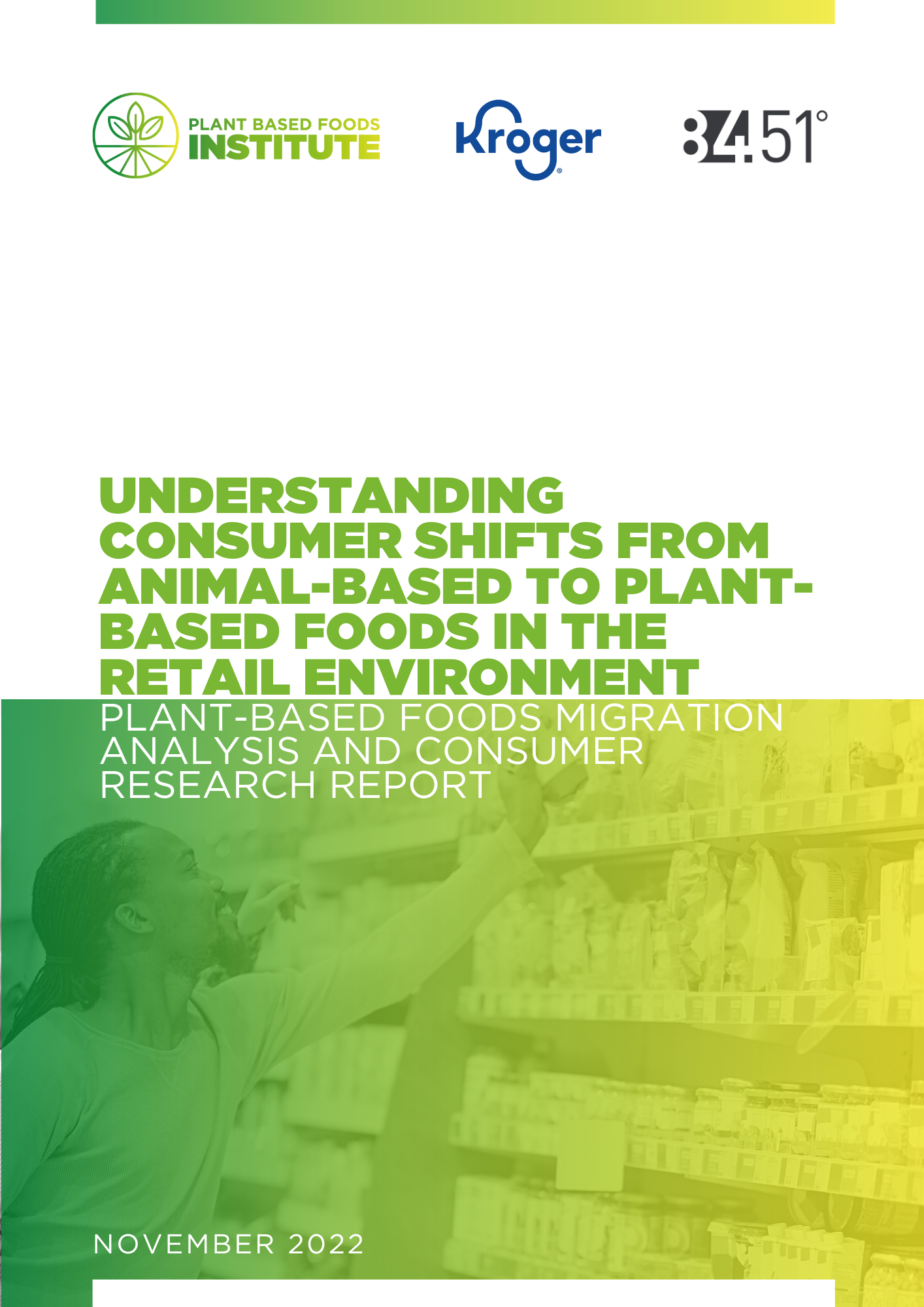 Understanding consumer shifts from animal-based to plant-based foods in the retail environment
In this groundbreaking plant-based foods migration analysis and consumer research report, PBFI joined forces with retail giant Kroger and data partner 84.51° to examine plant-based shopper dynamics over the course of two years—and dive deeper into the growing consumer shift from animal-based to plant-based foods.
Recent years have seen a dramatic increase in plant-based sales, with the total U.S. market growing from $4.8 billion in 2018 to $7.4 billion in 2021.¹ But the question remains: Are plant-based consumers indeed purchasing fewer animal-based foods as their engagement with plant-based foods in retail increases?
As our latest report makes clear, the answer is a resounding yes.
This first-of-its-kind research, conducted by PBFI, Kroger, and 84.51°, quantified the behavior of around eight million plant-based consumer households over two years (2019-2021). Part one of the research measured changes in plant-based customer spending in animal-based and plant-based foods across five categories – milk, refrigerated and frozen meats, frozen meals, cheese, and yogurt, and revealed consumer shifts in engagement with each grocery segment. Part two, a comprehensive Plant-Based Foods Survey, explored plant-based consumer motivations for these shifts.
The study also provides insights into the performance of prominent plant-based product categories and offers a blueprint for understanding which plant-based foods are associated with high engagement within the overall category. These crucial insights can inform decision-making within the dynamic plant-based foods sector and help the entire food retail industry understand best practices in merchandising and promotion that can influence strategies for action.
¹ SPINS "plant-based positioned" product attribute, customized by PBFA and GFI to include private label and custom categories, 52-weeks ending December 26, 2021, from the SPINS Natural Enhanced and Conventional Multi Outlet (powered by IRI) grocery channels.